Here's a set of pictures taken last year, around November time, of the jacket as it more or less stands now.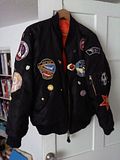 We were due to visit an event (on possible one of the most hottest weekends of the year - unfortunately too hot to wear the jacket but we made some friends who noticed it) so I cobbled together a mock up of the "ACE" on the back, made of red, white and yellow felt. I had photoshopped its approximate size in relation to screengrabs and images from the programme, it doesn't look too bad in fact. Obviously not the correct material, the correct material was more like the makings of the jacket itself. I'll see what I can find.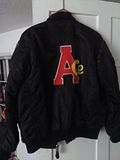 After this we still had some nice weather so I took some time and did some photos in the garden with my other favourite prop right now, the Seventh Doctor's umbrella.