Doctor Who script editor Andrew Cartmel conceived the idea of the Ace character.
The character of Ace was based on 3 young 14 year old girls that Andrew Cartmel knew, a typical young (rather than middling) teenager; ashamed of her real name, originally Dorothy, Ace was born and bred in Perivale, no sisters or brothers. Ace enjoyed chemistry at school, enough to conjure up an explosive experiment in her bedroom that triggered a time storm that whisked her away to Iceworld "Dragonfire" where she was a waitress. Ace joins the Doctor at the end of this adventure and continued to develop and mature till the series end in 1989.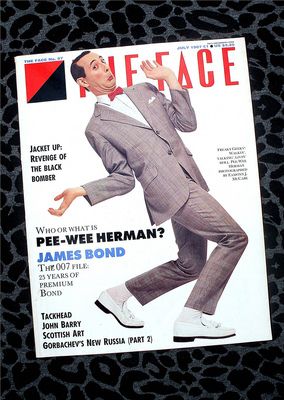 The costume of Ace was inspired by a photograph in the July 1987 edition of "The Face" magazine. Costume designer Richard Croft and Sophie Aldred headed out to London to source the costume, they returned with t-shirts, black Doc Marten shoes and a menagerie of badges and patches. Later patches and badges were added by Sophie, to the annoyance of the costume department as they would need to find replicas or reproductions to ensure continuity!
Sources: Text, Ace!: The Inside Story of the End of an Era. Images: Tragical History Tour.