In my vague attempt to track down some more badges, I found a nice little auction for a badge of playing cards. As depicted by the warmcanofcoke breakdown of the badges, one is an arrangement of cards with the top face of the Ace of Diamonds.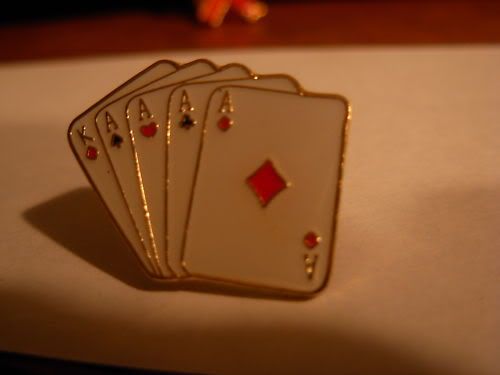 I found the above badge on ebay and paid for it straight away.
It arrived the next day and I feel somewhat disappointed that, despite being informed it is roughly 1 inch in width, it is considerably smaller. Well I say considerably smaller, it is correct in width but for some reason I expected to be at least an inch in height.
The same happened previously when sourcing the Charlton Athletic badges, sellers macros are obviously very good at tricking me, or I'm just blind.
Nevermind. Not sure whether I will return it, or just put up with it.
Back to the search...